Puyallup
is a city of about 43,000 residents, about ten miles southeast of Tacoma and 35 miles south of Seattle, Washington. It covers an area of just over 14 square miles and, translated from the Native American Puyallup tribe, means "the generous people." The name is pronounced, "pyoo-al-up."
Puyallup real estate
is experiencing a seller's market, with current
median home prices
running at about $650,000, about $215,000 higher than the previous year's median price. A seller's market means that fewer homes are available for sale than buyers are looking to buy. Sellers can have multiple offers on their
Puyallup homes for sale
and even witness bidding wars amongst eager buyers.
The city is family-friendly and offers newcomers and established folks alike various activities to please all ages. The Washington State Fair attracts more than one million tourists every year and ranks in the Top 10 largest state fairs in the nation. It runs for a total of 21 days in September.
Puyallup is host to a popular
farmers' market
every Saturday from April to October. Here, visitors can indulge in farm-to-table meats, produce, cheese, baked goods, flowers, and unique crafts and gifts. Puyallup real estate seekers and current homeowners will delight in these fantastic, can't-miss hikes.
Mount Rainier National Park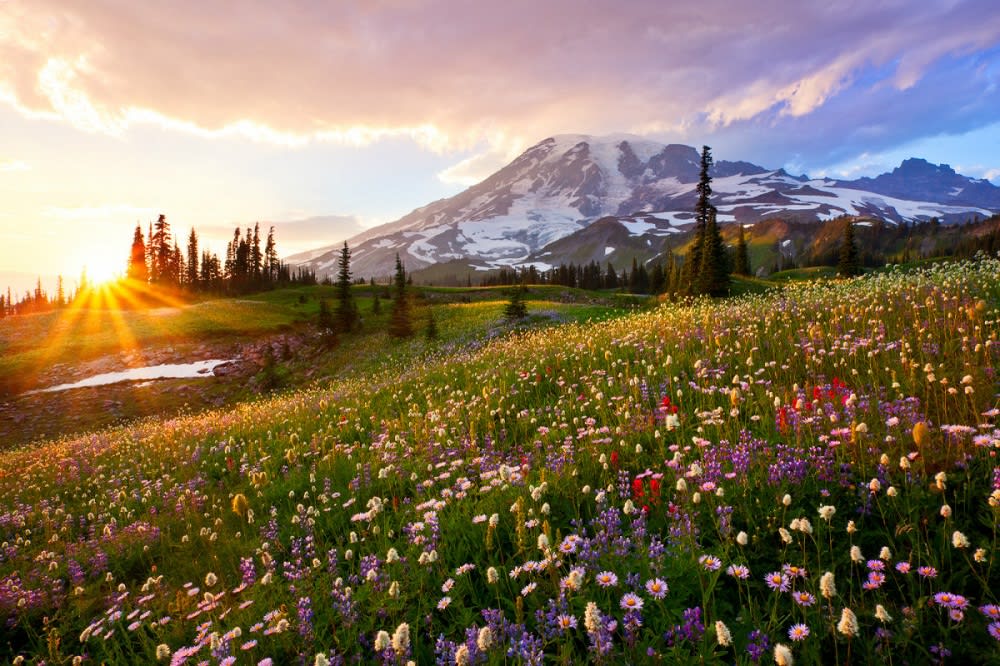 Mount Rainier National Park
was established in 1899 and offers hikers about 370 square miles of land to explore. It's located about 55 miles south of Puyallup and surrounds Mount Rainier. The 14,410-foot peak is covered with glaciers and has a vertical elevation rise of about 9,000 feet. This hike is a proper climb and only for experienced glacier climbers, but hikers can settle in at lower elevations and still revel in the surrounding nature and views.
The Carbon River route takes three to seven hours to complete, depending on your experience level and has a vertical rise of 700 feet over its 11-15 mile round trip distance. The Flaming Geyser State Park hike is classified as an easy hike and measures a 2.5-mile loop that takes one hour and has a 300-foot elevation rise. It, too, is snow-free and open year-round.
Iron Horse State Park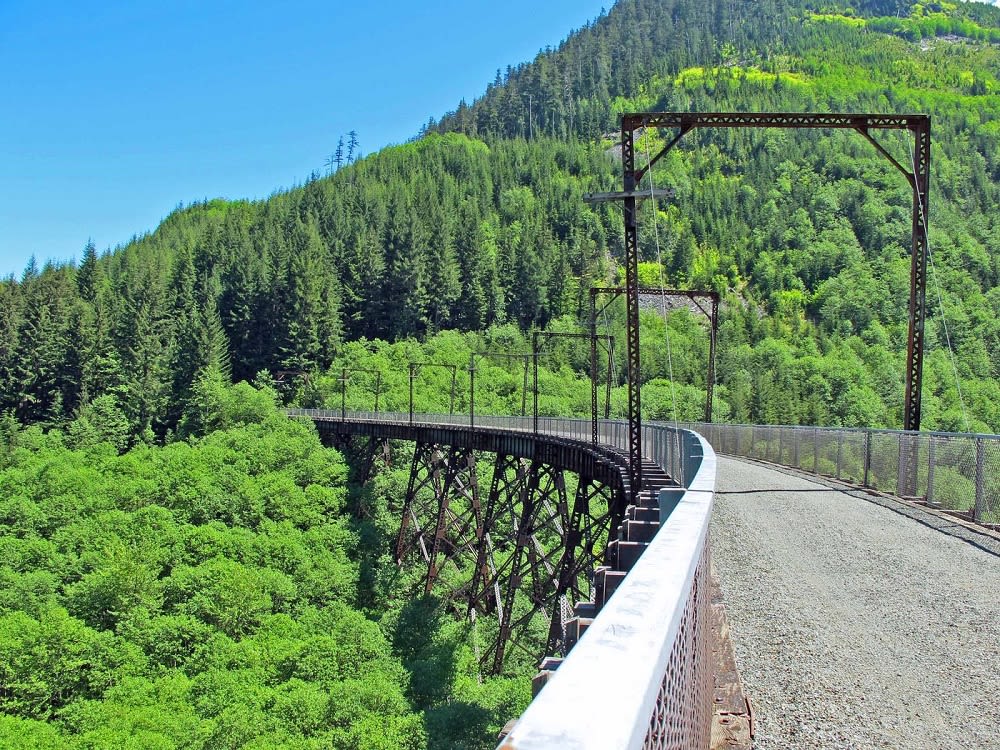 Iron Horse State Park offers more than 100 miles of hiking trail—known as the John Wayne Pioneer Trail—in an area that covers more than 1,600 acres. It lies about 47 miles from Puyallup. There are multiple trailheads along the trail that allow for hikers of all experience levels to enjoy nature, and it's also fit for those with accessibility issues. One popular hike with those who own Puyallup real estate is the 40-mile loop around Rattlesnake Park. It features a gentle 2% elevation rise, ideal for most hikers.
Foothills Trail
The Foothills Trail is about 16 miles from Puyallup and offers hikers 30 miles of six individual hiking segments. The longest segment is 15 miles long, and there's a 2.4 mile-long section called the Buckley to Cascade Junction, featuring four historic bridges. The Wilkeson to Carbonado Trail measures more than four miles long and takes hikers from the old coal-mining town of Wilkeson through the forest to Carbonado, a mining town at the foot of Mount Rainier National Park.
Spanaway Park and Bresemann Forest
Enjoy year-round activities at
Spanaway Park and Bresemann Forest
, about 12 miles from Puyallup. These two parks offer about 200 acres of green space and five miles of trail for walkers and hiking enthusiasts. Also on tap is a lake, a pond, and a dam. The hiking trail at Bresemann Forest is rated as easy and spans a distance of five miles with an elevation rise of 350 feet. It's an ideal spot accessible spot for all difficulty levels.
Kopachuck State Park
Those searching for family-friendly, year-round recreation that includes hiking have struck gold with the offerings at Kopachuck State Park, about 26 miles from Puyallup. You can take a leisurely hike along the park's shaded, 2-mile-long trails and then spend the rest of the afternoon lounging at the beach. Sunbathing, wading, and boating are just some of the activities on tap for the non-hikers in the family.
Penrose Point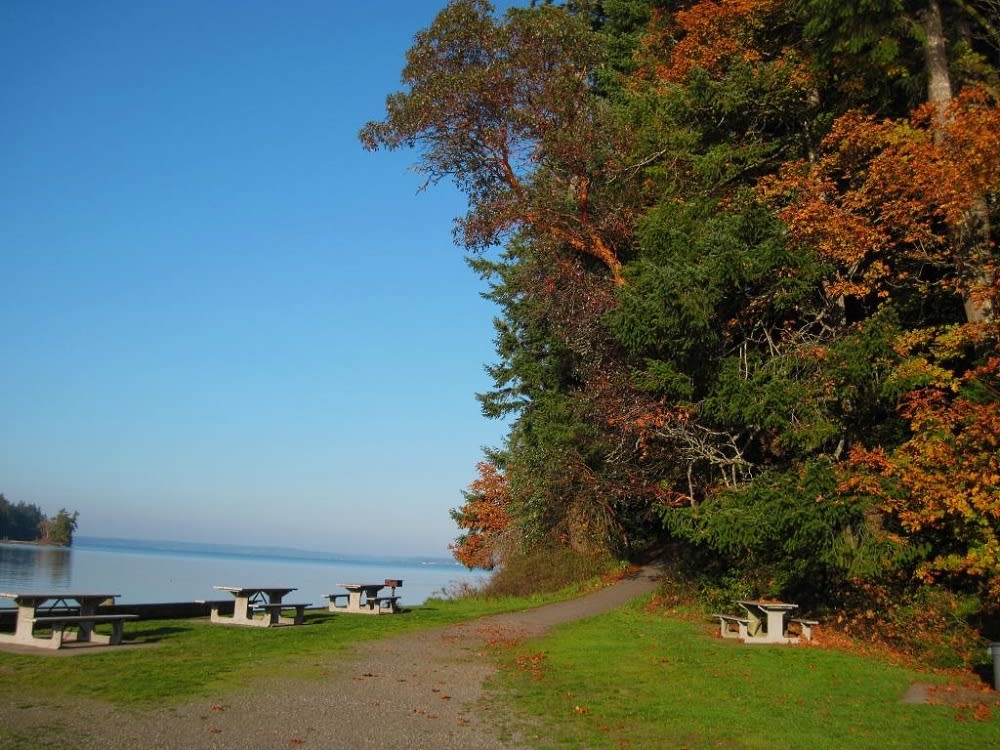 Hikers in the area to look at Puyallup homes for sale in a more wooded, forest-centric setting can travel to Penrose Point, about 40 miles from Puyallup. Located on Puget Sound, Penrose Point State Park offers almost 237 acres of well-forested land with 2.5 miles of hiking trails.
Trails are awash with plant life and trees. Nature lovers will delight in trillium (delicate members of the lily family), ferns, and huckleberries, which are tart versions of blueberries. Hikers will be surrounded by trees, including Douglas firs, big-leaf maples, and western red cedars. Campsites are available for those who just don't want to leave paradise.
Flaming Geyser State Park
Flaming Geyser State Park lies 22 miles from Puyallup. It offers more than 500 acres of day-use parkland with more than four miles of hiking trails and three miles of Green River shoreline. Hikers can glimpse a small, active geyser as they hike along trails that afford views of the river and forested areas. The hiking trail follows a figure-eight path, and a side trail takes hikers up a short, slightly steep offshoot that rises about 150 feet for amazing views of nature all around. You'll get to see local geese and ducks and redwing blackbirds if you're lucky!
The Agents Real Estate Group
are experts when it comes to Puyallup real estate and are eager to assist you in finding your dream home amongst Puyallup homes for sale.

*Header photo courtesy of Travelila, Mount Rainier National Park