The Pike Place Market is a public market located in Seattle, Washington. It is one of the oldest continuously operated public farmers' markets in the U.S., having opened in 1907. It serves as a place of business for many small farmers, craftspeople, and merchants of all kinds. It is named for its central street, Pike Place, and runs from Pike Street to Virginia Street on the western edge of Downtown Seattle.

There are a variety of different and unique shops within the Market, including antique dealers, comic book and collectible shops, small family-owned restaurants, and one of the oldest head shops in Seattle. Local farmers and craftspeople sell year-round in the Market on a daily basis, fulfilling their founding goal, which is to allow consumers to "meet the producer."

Pike Place Market is Seattle's most popular tourist destination, with more than 10 million annual visitors. Whether you're one of the 500 residents who live in the eight different buildings throughout the market or you're a tourist visiting Seattle this holiday season, Pike Place Market might be a great place to get your shopping done.

All of the places listed below are listed on the official Pike Place Market website if you're interested in more information.



Arts and Crafts
While they are not a traditional gift, such as clothing or entertainment-related items, arts and crafts can definitely go a long way with people who are artistic in nature. Pike Place Market has a few places to check out if you are shopping for somebody who is more artistically inclined.

Beyond Threads imports goods from Peru to wholesale in the U.S. Shop for items such as high-quality garments, Peruvian craftsmanship, and contemporary styles.

Catshy Crafts sells hand-embroidered felt art, hair accessories, and home decor. Known for being colorful and whimsical, their gifts are enough to make anyone smile.

Hands of the World has offered folk art, sterling jewelry, and accessories since 1982. Everything is handmade with a focus on Fair Trade artisans.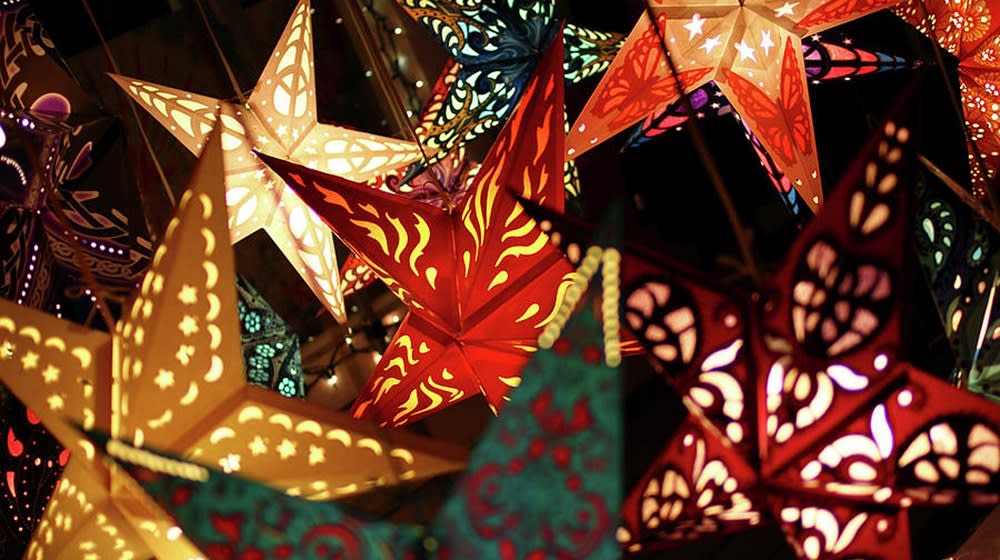 Credit: handsoftheworld.com
Our Fabric Stash is a specialty fabric consignment company with a socially responsible bent. OFS sells fabric, sewing patterns, buttons, zippers, sewing machines, notions, and other raw materials.

Polish Pottery Place offers fine European stoneware and artistic gifts and specializes in high-quality, functional stoneware hand-painted by a Polish artist named Ceramika Artystyczna. Polish Pottery Place also curates a wide selection of linens and accessories for the table and kitchen, as well as folk art.

So Much Yarn offers fine yarns, creative instruction, and handcrafted gifts with a mission to create a joyous atmosphere for nurturing authentic expression.

Ugly Baby is self-described as unapologetic art for immature adults. Their specialty is waterproof art you can hang in your shower with a suction cup, which makes the perfect gag gift.

Ventures Marketplace is known as one of Seattle's most unique and inspiring stores for handcrafted gifts. Behind every locally produced item from this store is an aspiring entrepreneur.
Clothing
While this marketplace isn't quite the best place to go if you are specifically looking for clothing, there are still some stores for you to check out for your holiday shopping!

City Kid Style sells dresses, leggings, and hair bows for kids. This is great if you have a niece or a child in your family you need to buy a quick present for.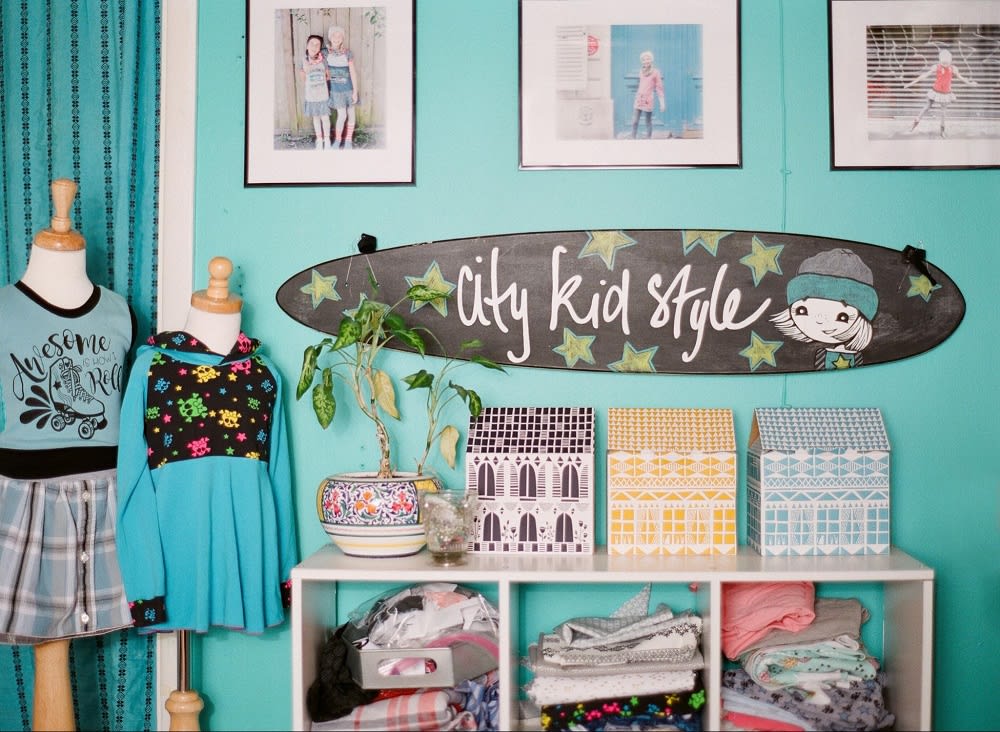 Credit: citykidstyle.com
Conscious Wear is a retail store that sells eco-friendly clothing made of hemp, wool, khaki cotton, and fine wool.

Earth Wind & Fire Boutique is a family business that focuses on pieces from local designers.

Eastern Mood describes its style of clothing as ethnic, selling contemporary Asian clothing such as dresses, scarves, and jackets.

J & J Sportswear sells t-shirts, sweats, and hats. They also sell Seattle sports apparel such as Sonics, Mariners, and Seahawks.

Lungu Gifts & Antiques sells imported clothing, specializing in African and Indonesian clothing and accessories.

Maggie's Shoes is a boutique shoe store that imports clothing, shoes, and accessories directly from Italy.

The Purple Store sells over 1,200 great items — all purple! If you have a purple-obsessed person in your life, this may be the perfect place to check out.
Zebra Club has established itself as a pioneer in the concept of environmental retail, which entails signage and fixtures to represent brands and their particular lifestyle and theme.
Entertainment
Entertainment is such a wide genre — there are books, films, music, games, and more, and those are just a few of the entertainment-related gifts you can find at Pike Place Market.

BLMF Literary Saloon is a used bookstore with books in a variety of different genres.

Chin Music Press is a media company that creates beautiful and affordable books.

Golden Age Collectibles is known for being the world's oldest comic book store. It has any and everything to satisfy your inner child, from comics and manga to toys and games.

Holy Cow Records is a used record store that specializes in rare vinyls. If you have a gift recipient who would appreciate a rare record, this is definitely the place to check out.

Lamplight Books is an independent bookshop featuring a curated selection of literature written in many genres.

Market Magic Shop sells magic tricks, juggling products, gags, yo-yos, and much more. If there's an immature jokester in your life, this is the perfect place to pick up a gift for them.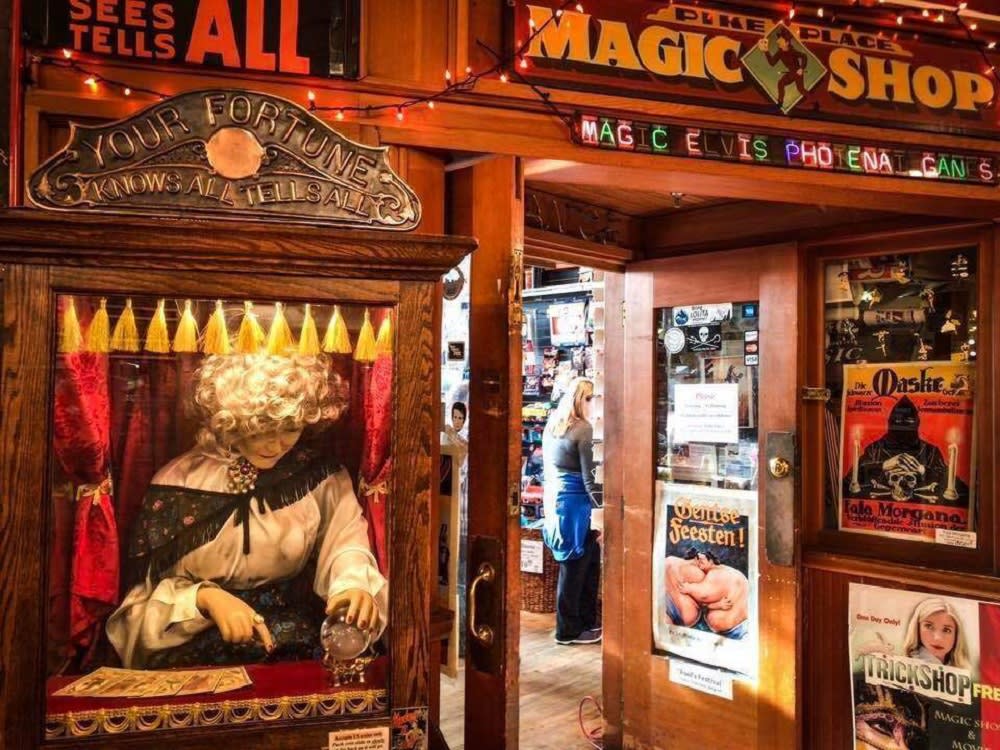 Credit: marketmagic.shop
Jewelry
One thing that most people can agree on is that jewelry is a pretty safe option for gift-givers. While jewelry-specific stores aren't as common at Pike Place Market, there are still some for shoppers to choose from. Many of the stores listed above also sell jewelry along with clothing or accessories.

Benavi's Imports is a small, family-owned store that sells sterling silver rings and semi-precious stones.

House of Jade sells jewelry and offers stone setting, casting, polishing, and repair services on top of rings and earrings.

House of Silver and Gold specializes in unique jewelry made of gold and silver.

Isadora's is known for its antique jewelry selection, with breathtaking items that are hard to find anywhere else.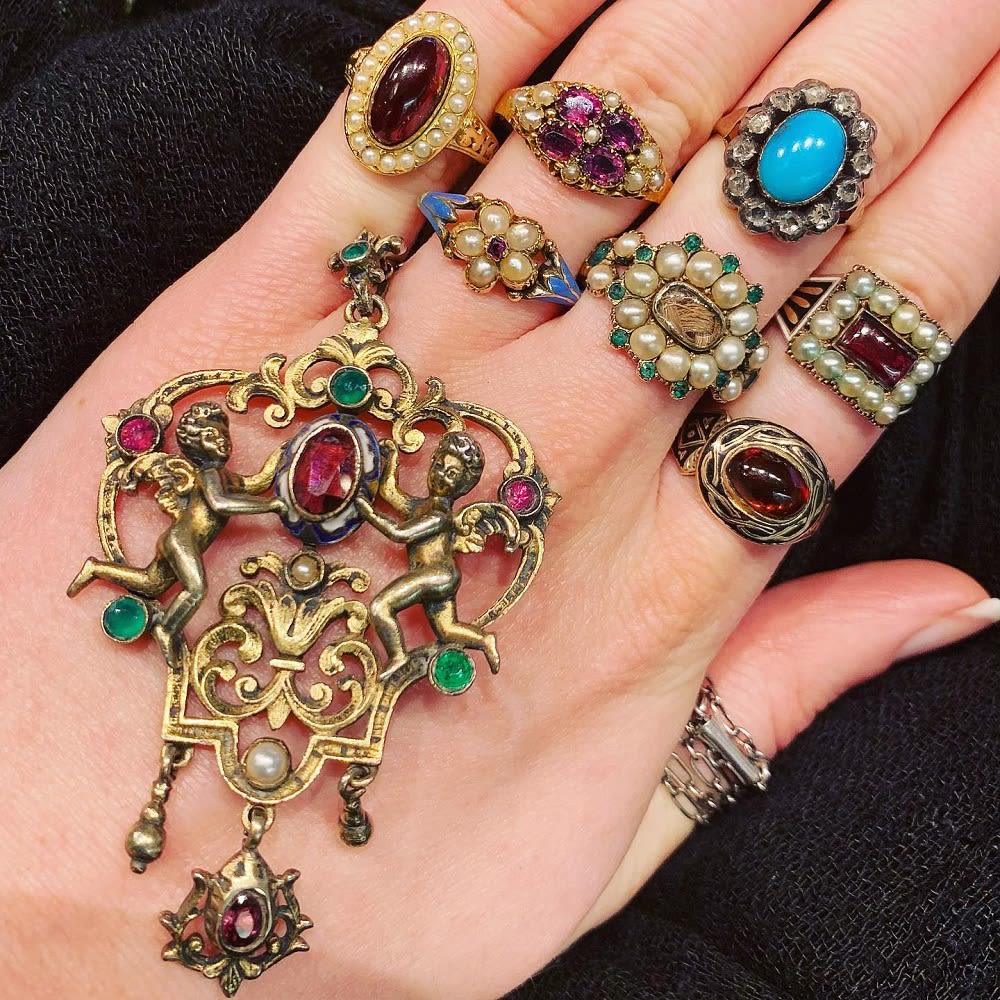 Credit: isadoras.com
Solstice Designs specializes in handmade jewelry such as necklaces, earrings, and rings.
Houseware
Houseware items might be one of the top things to buy as a holiday gift. With such a variety of items and styles, it's easy to find something for everybody.

CMS Ceramics specializes in pottery-made dishes made from local clay.

Kitchen Basics is a family-owned business that provides its customers with unique, high-quality kitchen tools.

Seattle Cutlery is known for its knives, from highly rated culinary knives to outdoor and pocket knives.

Sur La Table specializes in its cookware and cutlery — it's a prime destination for anyone who loves cooking.
Toys
Of course, the holiday season is nothing without toys underneath the Christmas tree on Christmas morning. Here are just a few places to find some exciting toys for the little ones in your life.

3D Wood Puzzles offers one-of-a-kind three-dimensional wooden puzzles for all ages.

MarninSaylor specializes in hand-made plush toys and collectibles.

Toys aren't just for kids! Merry Tails is an animal-themed store with toys for your furry friends.
Are you interested in hearing more about Seattle?
If you are interested in Puyallup houses for sale or Graham, WA homes for sale, contact The Agent Real Estate Group to speak with one of their experienced and knowledgeable real estate experts.


*Header image credit: seattle.eater.com